Fall is here and so is football season! Get your gears and get ready to play some ball.
Youth Leadership Council (YLC) is hosting its Competitive 8v8 Flag Football Tournament Fundraiser at Cullen Park on Saturday, November 23rd & 24th starting at 8am. All proceeds will go towards supporting our Youth Leadership Conference benefiting high school students by providing mentorship through a themed leadership conference. Our theme this year is " Stay in the Deep End ": Stepping up and seeking out challenges.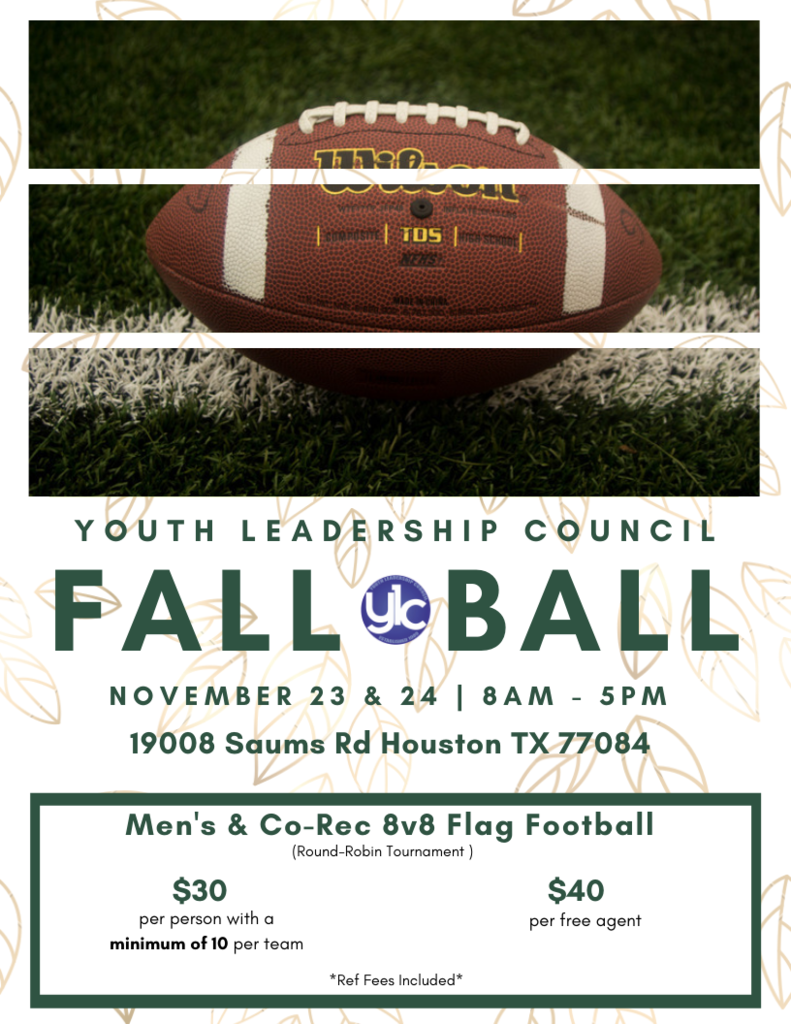 Register by November 15, 2019
Event Date: November 23rd & 24th
Time: 8AM – 5PM
Place: Cullen Park
Click here to view the Facebook Event Page
Price: $30/person with a minimum of 10 player roster; $40/person for Free Agent Individuals
Men's & Co-Rec Teams
Referee Fees ARE included with a 3 game guarantee!
This will be a competitive tournament for teams across Texas. Coaches or Team Captains must submit a team registration form and payment in full by November 15th to be guaranteed entry. Spots are expected to fill up quickly, so please register as soon as possible.
Individuals NOT part of a team who would like to participate may register as a "Free Agent" and will be placed on a team.
Youth Leadership Council is a charitable fund, a Section 501(c)(3) non-profit organization. Your contribution is tax deductible to the extent allowed by law.
The tournament will be played with normal TAAF rules (link to rules below). Bracket play with a guaranteed 3 games!
Rules: http://www.taaf.com/proxy/files/documents/Cavalcade%20of%20Sports/2018/Sports%20Rules/TAAF%20Adult%208%20on%208%20Flag%20Football%20Rules%202018.pdf